Quality
How the Pellets are Made
Step 1:
Scrap wood is brought to the HBI plant where it is ground up in two steps. The first grinds the wood into mulch. The second grinds the mulch into a fine wood meal.
Step 2:
Wood meal is measured into a large batch mixer where moisture is checked. Different woods can be blended to get the desired composition and consistency.
Step 3:
After the meal is mixed, it is conveyed to the pellet mill where it is pressed through small dies to form the pellets. Friction heats up the lignins in the wood which act as a natural binder to hold the pellet together.
Step 4:
The pellets exit the mill at over 200°F and fall into a pellet cooler which blows air to cool them to within 20°F of room temperature.
Step 5:
Fuel pellets then go through a screening process to remove small pieces and fines.
Step 6:
The pellets are then bagged in 40 lb poly bags, stacked on pallets and shrink wrapped for delivery.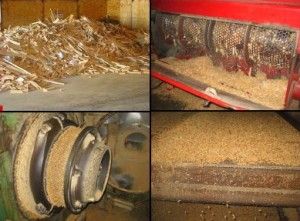 Why Choose Pellets
Wood pellets are a clean, safe and convenient alternative to fossil fuels for comfort heat. Wood pellet fuel competes favorably with propane, fuel oil and electricity with users often trimming 15% to 65% off their fuel bill. Pellet stoves are typically 8 to 10 times more efficient than cord-wood fireplaces with efficiency similar to that of a natural gas furnace. Unlike corn, wood pellets do not compete as a food or feed source. Wood pellets are non-toxic, non-hazardous, and completely biodegradable. In addition, pellet fuel is environmentally friendly, keeping millions of tons of biomass from our landfills annually. Anyway you stack it, wood pellet fuel is a smart option.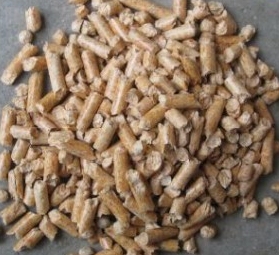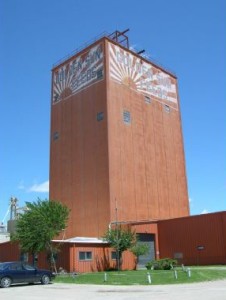 Basic Characteristics
Low Ash (< 1%)
Low Moisture (< 8%)
High Energy (> 8600 BTU/lb dry
basis)
Cost effective (when compared
to electric, propane or fuel oil)
Safe
Convenient
Clean Burning
Low Maintenance
What sets us apart?
Process only clean, dry scrap wood Quality assurance on feed-stock, processing and packaging Conveniently located in Fremont, NE, at the crossroads of Hwy 77, 275 and 30 Customer service second to none.
Locally owned.